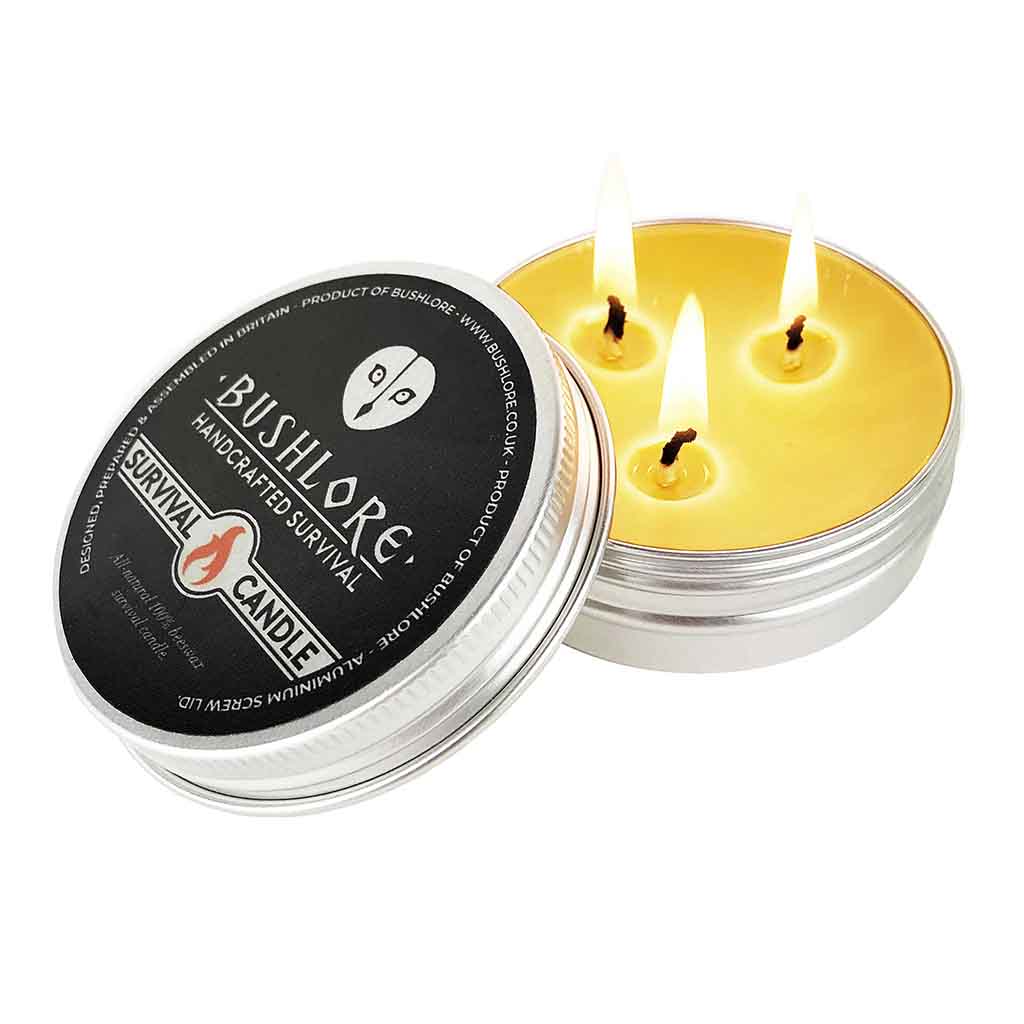 Beeswax Candle - Tri-Wick
Bushlore's Beeswax Survival candle offers a versatile and compact means of carrying an emergency light source and method for boiling water. These are still light weight enough to carry in a first aid kit or throw in a pack and provide an excellent backup source of Beeswax for other projects if needed.

The Large Survival Candle is great for emergency situations where you need light or warmth and will provide up to 4 hours 30 minutes when burning all 3 wicks simultaneously, 8 Hours+ if just one wick is lit! 

Product Features:
- 100% pure beeswax
- Multiple three-wick design
- One wick lit provides up to 8 Hours of light & heat
- Three wicks lit burn up to 4 Hours 30 Minutes
- Provides both light and heat in emergencies, premium beeswax burns hotter and longer
- Use all three wicks for added warmth in cold conditions and boiling small amounts of emergency drinking water (Approx 250ml in 20 minutes)
- Made in Britain 

Specifications:
- Tin Size: 6.8cm x 2.6cm
- Weight: Approx 67g+
- Tin Type: Aluminium Screw Top Waterproof Tin
- Ingredients: Beeswax, waxed cotton wick

Package Contents: 
1 Natural Beeswax Survival Candle (unless 2 pack variation chosen) 

Caution: This candle/ tin becomes very hot when lit for long periods of time, please take appropriate precautions.
- Not suitable for Children
- For outdoor use only.

Any questions, please feel free to contact us, we are happy to answer any and all queries!

We offer a satisfaction guarantee or your money back. We stand behind our products and their craftmanship, therefore our return policy extends to 60 days.